Construction Dumpster Rental Services
We Have 15 Cubic Yard Dumpsters!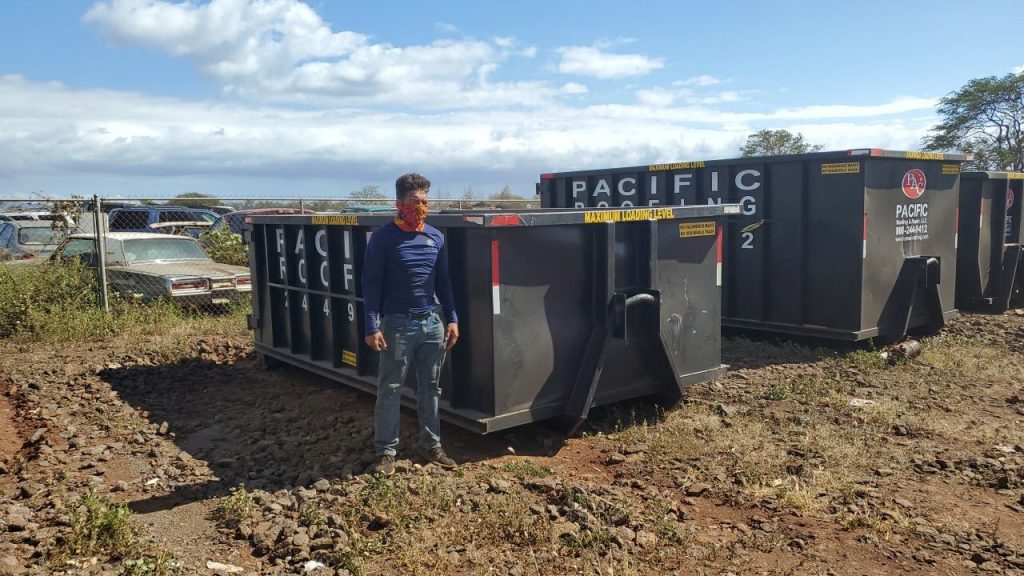 We Have 30 Cubic Yard Dumpsters!
MAUI Construction Dumpster Rental Services - PACIFIC EQUIPMENT
Rent Dumpsters and Containers for Your Maui Construction Project
Low-Cost, High-Quality Construction Dumpster Rental Services
If you're working on a lot of construction projects, it may be difficult to keep the construction sites organized and free of used up or leftover materials that need to be dumped. With Pacific Equipment, you no longer have to worry about removing construction waste from your sites. We provide construction dumpster rentals at very affordable prices without compromises on the quality of our services.
Trust us to assist you with your next construction waste removal job and enjoy our top-notch construction dumpsters and containers rental services on Maui.
Get Rid of Your Construction Waste Quickly and Easily
We offer a range of construction dumpsters that are suitable for all kinds of common construction projects, such as demolition, roofing, or landscaping jobs. We make sure to send a construction dumpster to your site as soon as possible so that it stays free from waste and debris that may slow down any other work being done on the site. Regardless of whether your aim is to construct or demolish, we are ready to provide suitable equipment for waste removal and keep the mess on the construction site under control.
Rent Our Construction Containers to Facilitate the Work on Your Project
Doing Roofing Jobs
When you're working on a roofing project, there's bound to be a lot of shingles or sheathing waste. Renting a construction dumpster from us will allow you to keep the construction site from getting messy as the work on the roofing progresses. We rent construction dumpsters for all common kinds of roofing materials and waste that's produced during their installation and removal. Even if you're working on a large-scale roofing project, we can still provide a suitable construction dumpster to dispose of all accumulated construction waste.
Our construction dumpsters for roofing jobs are:
Easy to use – just tell us where to place the container, and we will make sure it's as close to the construction site as possible so that your crew can load in the debris quickly and with minimal effort
Convenient – just order a construction dumpster to be delivered to your construction site, have the debris loaded into it, and call us to arrange for the container to be picked up
Fast – if your chosen container size is currently available, we will deliver it to your site within the next 24 hours so that you can quickly dispose of roofing waste and keep working on the project
Removing Concrete Debris
If your crew is done with tearing up concrete, the next thing on your mind is probably going to be waste disposal. With us, getting rid of concrete waste and dirt is easy. Just give us a call, and we can figure out what dumpster size is going to work best for your project. Unless your heavy construction waste is contaminated, we can take care of it within the next one to two business days.
Our concrete waste removal services offer:
Optimal capacity – we have containers of all sizes, including huge ones that can hold up to ten tons of concrete waste and other heavy debris
Consistent reliability – we always deliver on our promises and estimates, providing fast pickups to keep your construction site as clean as possible
Helpful support teams – we value your time, so we make sure that our support team members are all professionals capable of giving precise answers to your questions regarding our services
Disposing of Landscaping Waste
Working on yards and other landscape projects can produce surprisingly large amounts of waste. We can help you take care of that by renting you a construction dumpster and picking it up once your crew is done loading it. Your landscaping project site will be clean and uncluttered by grass clippings, cut off branches, fallen leaves, and other kinds of waste typical for landscaping projects. Don't hesitate to call us to find out more about our landscaping waste removal services.
Our landscaping waste container rental services provide:
Ease of use – just open the container door to load in heavy stumps and shrubs easily
Flexibility – just call us, and we will deliver a landscaping waste disposal container to your location whenever you need it
Value

– with a number of container sizes available to choose from, you will only have to pay for a container that you actually need without overpaying for larger dumpsters that you won't fill up anyway
Cleaning Up Waste from Demolition Projects
Your construction site can drown in demolition debris pretty quickly even if you just need to tear up a wall or two. If you're demolishing the whole building, the amount of waste can get out of control before you even know it. Fortunately, you can let us take care of waste disposal from your demolition projects. We will provide waste containers for shattered glass, crushed bricks, ripped up floors, and many more kinds of construction waste that is the inevitable result of the demolition.
Our waste removal services for your deconstruction projects are:
Reasonably priced – we have flat rates, and we won't charge you any additional hidden fees once the job is done
Always available – our teams are always ready to start working on another project, so you can expect us to take care of your construction waste disposal within one-two business days
Easily extendable – if your crew isn't going to load all waste into the container in time for the scheduled pickup, give us a call, and we will extend your rental for a flat fee paid on a daily basis
What Kinds of Construction Waste Can be Disposed Of in Our Containers?
We have a lot of experience removing many types of debris from Maui construction sites, so we should be able to take care of your construction waste disposal as well. Generally, we accept all common kinds of construction debris, including but not limited to:
Underlayment – tiles, shingles, roofing gravel, flashing and felt the paper
Heavy debris – bricks, asphalt, blocks, and concrete
Landscaping debris – stumps, grass, leaves, branches, and dirt
Construction materials – lumber, siding, flooring, and drywall materials
If you need to dispose of any other waste types, don't hesitate to contact us and find out whether your debris is accepted by Pacific Equipment.
Rent a Construction Dumpster from Us and Easily Get Rid Of Debris
Disposing of the construction waste from your projects may seem daunting, especially if you need to dispose of more than a ton of debris. However, we can help you take care of that matter quickly and efficiently, allowing your construction site to stay clean and organized.
If you haven't worked with us yet, you'll need to call us to arrange for the basic rental services and any additional services (extended rental period, additional containers, etc.) you might need along the way. If you are a returning customer, you will have a representative assigned to you. You'll be able to email or text your representative and quickly schedule any kind of services offered by Pacific Equipment.
Regardless of whether you need a construction dumpster for a small job or a huge project, we are happy to help you out and take care of all your construction waste disposal needs. Call us if you would like to schedule a container delivery or find out more about our services.