residential roll off rental services
We Have 15 Cubic Yard Dumpsters!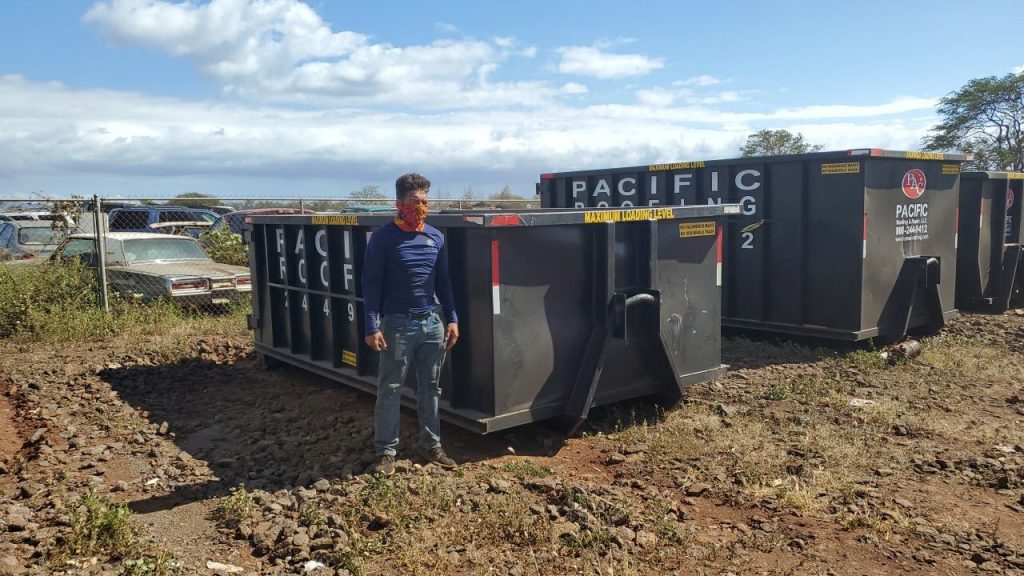 We Have 30 Cubic Yard Dumpsters!
mAUI residential roll off rental services - PACIFIC EQUIPMENT

Rent a Residential Dumpster to Dispose of Household Waste on Maui
Reliable Waste Disposal Service for Your Residential Projects
If you intend to complete a home renovation project on your own, you can still rent a waste disposal dumpster from Pacific Equipment. We work with professional construction teams and single households alike, providing excellent services to each and every client.
Whether you need to dispose of home renovation waste or throw away a pile of residential junk, we are happy to provide a suitable residential waste container and pick it up once you're done loading it.
Helping You Take Care of Your Home With Our Residential Dumpster Services
If you need to unclutter your home or complete a renovation project, you will likely end up collecting quite a lot of residential and construction waste. We can deliver a dumpster right to your driveway and make the cleanup process much easier for you. Just find some time to throw all the waste and debris into our dumpster and schedule a pickup with us. Here are some practical examples of how Pacific Equipment can help you with home renovation, remodeling, and cleanup.
Uncluttering Your Home and Garage
Our dumpster rental services are going to significantly facilitate the process of removing unnecessary clutter from your home and garage. You can even rent a dumpster for a weekend clean out project and have it picked up at the beginning of the following week.
We offer:
Reliable scheduled deliveries – we won't let you down and delay the uncluttering of your home by failing to provide a dumpster in time
Easily extended rentals – you don't have to worry if you need the dumpster to stay in your driveway for another day or two; just give us a call, and we will pick it up later for nothing more than a flat daily fee
Careful placement – we won't just dump our container in front of your home and let you find a convenient way to load it
Working On DIY Home Improvement Projects
Once you're done with remodeling your kitchen or making over your backyard, you'll find that having a Pacific Equipment dumpster standing in your driveway is extremely convenient for getting rid of all accumulated waste.
We offer:
Efficient waste disposal – we accept most kinds of residential waste and construction materials
Expert recommendations – whenever something about our services seems unclear to you, you can always consult our team and have your questions answered
Flexible delivery – if you need a large dumpster that won't fit into your driveway, our team will help you figure out a solution
Facilitating Your Move
If you're moving to a new home, chances are you'll be better off without the old furniture standing in your basement. We can help you reduce your old home's inventory and minimize the amount of stuff you'll be taking to your new home by providing a residential dumpster to collect the old things you no longer need.
We offer:
Easy junk removal – open the dumpster door to easily roll in heavy things that can't be tossed over the container's side

Affordable rate

s – we won't charge you a fortune, so you can take the cleanup of your home slow, without having to rush and bring out all your belongings in one day
Fast service – just give us a call, and we'll deliver a suitable dumpster to your driveway in a matter of hours
Cleaning Up After General Construction
If you need more than just get rid of your old stuff, you can still rely on us to offer an affordable service and save the day. Hauling away heavy materials such as concrete or lightweight construction waste such as old flooring are both tasks that we successfully perform on a regular basis. You can always consult our team of experts who are happy to help you choose the right container to get rid of your construction waste and debris.
We offer:
Suitable containers – you won't have to throw your debris into multiple small containers or pay for a large one that you aren't going to fill up anyway
Flexible pickups – we can easily postpone a container pickup if you find you need more time to fill your container
Personalized offers – we stick to long-term schedules for clients who need multiple services so that they don't have to call us every time they need a pickup or delivery
Cleaning Up After Storms and Floods
If your home has been affected by a natural disaster, you're already stressed out enough as it is. We can help you deal with the consequences of a Maui flood, storm, or any other disaster by providing residential dumpsters. With a Pacific Equipment container standing right in front of your home, getting rid of damaged objects and debris is going to be a lot easier. Call us to find out more about our storm cleanup dumpsters rental offers.
We offer:
Helpful support teams – don't spend hours waiting for an answer; just call us and have a customer support professional answer all your questions
Fast pickups – we will pick up your filled up dumpster as soon as possible so that you can start renovating your home
Reliable schedules – if we promise to pick up or deliver your container during a certain time period, we are going to be there and deliver on our promise
With Pacific Equipment, the process of renting a residential dumpster is as easy and hassle-free as it could be. Our professional team members will provide correct estimates for all fees, including the applicable taxes. You won't be surprised by any additional hidden fees charged at the end of your container rental. We make sure that you get an excellent service from us and always prioritize our clients' needs. If you want to rent a residential waste container from us, call us and start cleaning your home right now!