We Have 15 Cubic Yard Dumpsters!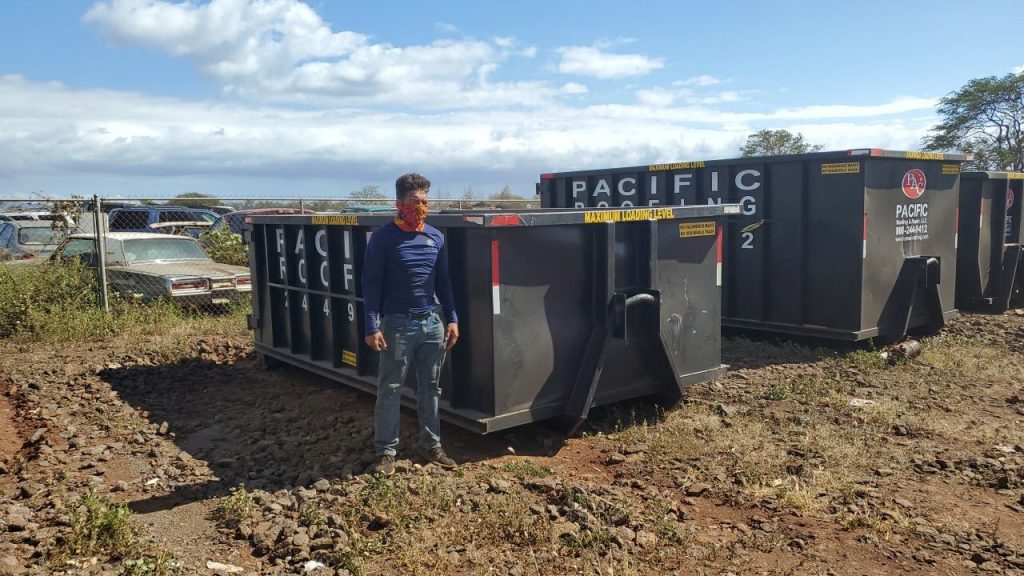 We Have 30 Cubic Yard Dumpsters!
Maui Dumpster Rentals - Pacific Equipment
Dumpster rentals on Maui have finally been made easy and affordable thanks to Pacific Equipment's dumpster rental service on Maui.  Dumpsters are also known as roll-offs or roll-off dumpsters.  As you can see in the image above, the dumpster simply "rolls off" the back of our specially designed hauling truck.  We can lay down plywood to protect your driveway, lawn, or other sensitive area to protect and minimize damages.  Our Maui dumpster rental service includes delivery of the dumpster, hauling away, and disposal of the contents.  For you it's easy: order the appropriate size, we deliver, you fill it up, call us when it's full, and we'll come pick it up and haul it away.  Our services include delivery, pick-up, and hauling.  If you need rent 2 dumpsters, we can deliver 2 dumpsters anywhere on Maui.  Or if you want us to empty the full dumpster and then bring back the same dumpster after we have emptied it, we can do that too.  We offer competitive pricing and outstanding customer service when compared to other dumpster rental companies on Maui.
What Is A Roll-Off Dumpster?
Roll-off dumpsters are waste container with an open top that can be used for commercial and residential projects. If you are doing demolitions, home cleanouts, or a construction job, these are the dumpster you need for managing the waste. The containers are dropped and picked by a specially-designed truck. The roll-off dumpsters are, at times, also called:
• Roll-away dumpsters
• Bins, tubs or cans
• Roll-off containers
• Debris boxes
• Roll-off boxes
• Temporary waste containers
Irrespective of the name used for the dumpsters; what you get is a practical waste removal solution that eliminates the hassle of cleaning up the messes made during the project. And since different kinds of roll-off boxes are available, there is a viable container for every type of project and waste materials.
Whether you are a contractor or homeowner, getting a roll-away dumpster will ensure you have an effective, hassle-free means of handling the cleanup for your project. We at Pacific dumpster rentals have budget rental roll-off bins to guarantee you affordable, fast services at flat rates and simple terms. We are who to call if you need a convenient, low-cost solution for handling waste.
Below are a few questions that we get from clients that are thinking of getting roll-off dumpsters. We hope the answers will help convince you that you cannot go wrong with these waste management solutions.
1: How Much Will Renting a Dumpster on Maui Cost?
We offer an affordable upfront rate with the costs of the rental period, delivery and pickup of the dumpster, as well as applicable taxes, factored into the overall price. However, the costs of hiring the dumpster can vary depending on factors like type and volume of waste materials, your location, size of the bin, and the length of the rental period.
2: What Size Of Dumpster Do I Need?
How big of a container you need is subject to the type and amount of waste materials that you will produce. Call us to find out which dumpster will be the right size for your project. You can also check out our catalog of standard dumpster sizes and their suitable applications based on their size.  We currently have 15 cubic yard dumpsters and 30 cubic yard dumpsters for rent on Maui.
3: How Long Can I Keep The Dumpster on Maui?
We offer flexible rental terms and periods, but this also depends on your location. We will work closely with you to ensure you have and use the trash bins for the full length of the project. Call us today and learn more about our rental periods and terms; we guarantee that it all will fits your needs.
4: Which Type Of Dumpster Fits My Project?
What you need largely depends on your project, specifically the type and amount of waste you are generating. We do have an array of options for the rental containers suited for commercial construction jobs or home projects.
Dumpsters For Residential Projects on Maui
Many home projects are relatively a breeze. Having a Maui dumpster on the yard or driveway will help you have a better way of handling junk and debris. The temporary container is an ideal choice for storm cleanup, garage clean-outs, renovations, general construction, moving cleanup, and more.
Dumpsters For Construction Projects on Maui
Given the magnitude of most commercial construction projects, the amount of waste they produce is considerable hence the need to keep the job site clear of junk and debris for the safety of the works and for things to run smoothly, fast, and efficiently. We have dumpsters built for Maui that can handle tons of bulky construction waste like lumber, brick, concrete, and metal, among other kinds of materials.
Some of the projects that benefit from our Maui dumpster rental service include landscaping, roofing, demolitions, concrete removal, and various types of general construction jobs. We avail as many dumpsters as needed, and our services also include pickup and disposal of the debris to keep the cleaning up moving.
Find The Right Maui Dumpster By Debris Type
Dumpsters are designed to handle a wide range of cleanup jobs. However, there are three main types of waste that these containers fall under; these are:
– Mixed Waste
Mixed waste dumpsters have a diverse application; they have the broadest range of uses. They are also known as Municipal Solid Waste and are a common choice for residential debris. Our mixed waste bins are suited to handle junks such as electronics, clothing, furniture, cardboard, appliances, and other kinds of household junk.
– Heavy Debris
Our heavy debris containers are the best used for commercial construction projects such as larger building renovations, demolitions, and other construction jobs that produce heavy debris like rocks, concrete, bricks, asphalt, and blocks.
– Yard Waste
Yard waster dumpsters are an excellent choice for lawn care, landscaping, gardening, and other types of outdoor jobs. They can handle waste such as weeds, branches, bushes, leaves, plants, sticks, and grass clippings.
How We Simplify Roll-Away Dumpster Rentals
When you get in touch with us, our team will take you through the process involved with renting our dumpsters on Maui. We take the necessary steps to simplify the rental process of our clients availing the following: 
  1).    Call for a free quote 
You will get a free quote from our team, which is based on the type and amount of debris you project will generate. 
  2).    Get upfront pricing 
We include upfront pricing for all our rental dumpsters so that every client knows the total cost of renting a roll-away bin beforehand. 
  3).    Schedule delivery 
We will schedule the delivery of your rental dumpster for the soonest time possible to avoid delaying your project. 
  4).    Call for pickup 
Once you are done with your work, you will then call us to come to pick up the rental trash containers and dispose of the waste. 
Our Residential Maui Dumpster Rental Services
At Pacific Equipment, we have a Maui dumpster rentals for any home cleanup. You do not need to be a professional to rent our waste containers for your home or neighborhood cleanup.
Whether you are doing a DIY project or the work will involve the expertise of an experienced contractor, you should ensure that you have the necessary measures for heavy-duty cleanups in place. We can help you find the right dumpster for your project, be it a home remodeling or residential debris removal. We have the right bin that suits your budget and needs.
How Much Will The Residential Dumpster Rental Cost?
Some of the residential projects that you can rent a dumpster for include:
a). Home & Garage Cleanouts
When you have a house or garage cleanout, having the waste bin in your driveway will help make the process hassle-free. We recommend getting a 15-cubic yard dumpster for those foreclosure cleanouts or weekend decluttering jobs. Along with the dumpster, we also guarantee that you will enjoy the following:
• Fast Delivery: To ensure that the cleanout starts on time thanks to our quick home deliveries.
• Extended Rentals: Allowing you to utilize the dumpster beyond your rental period at an affordable, flat, daily rate.
• Convenient Placement: To help you find the ideal post for the trash container for easy and secure access.
b). Home Improvement Projects
You will get rid of junk and debris of your bathroom renovation, kitchen remodeling, or roofing project with ease if you have a dumpster on-site. A 15-cubic yard container will suffice when you are knocking down a single wall. However, you will need a 30-cubic yard dumpster if you are working on several rooms. Talk with our team to figure out which residential dumpster will be the best fit for your project. You also will get:
• Variety of Accepted Materials: We can handle different debris, from drywall, bricks, broken lumber, and concrete.
• Expert Advice: Our experts will recommend the best container for your waste materials.
• Delivery Support: We can help you find another suitable spot for your rental bin if your driveway is too small for the container.
c). Moving
Moving house can be demanding. The thinning process of knowing what to keep and throw away requires that you have the appropriate waste management solution for the clutter you throw out. Our residential dumpster can handle worn-out furniture, appliances, fixtures, and clothing. We can help you pick the right bin for your household items. We often recommend getting a 15-cubic yard dumpster, though you can go for something bigger depending on the type and volume of junk you are throwing away. We also will provide:
• Simple Junk Removal: So that you can toss or walk the trash into the bin.
• No Rush: You will enjoy lengthy rental periods allowing you enough time to sort your items.
• Order With Ease: We are available on call from Monday to Friday for all that want to order a rental dumpster for their home project.
d). Disaster or Storm Cleanup
The weather can wreak havoc on your home, and you are left cleaning up and picking up the peace to regain some normalcy afterward. We at Pacific Roll-Off Dumpsters, we have yard dumpsters that we can offer homeowners during the cleaning up after a storm or disaster. We recommend a 15-cubic yard or 30-cubic yard container for the fallen plants, branches, sticks, and bushes. We also will offer:
• Personal Support: You will speak directly to our highly experienced and professional team when you call.
• Availability: We are but a call away Monday to Friday to provide the support you need during the rental period.
• Quick Pickups: We guarantee that you will have speedy removal of the dumpster once you are done with the cleanup.
Exprience A Hassle-Free And Supportive Home Dumpster Rental Service
Whether you are decluttering your home or it is neighborhood cleanup, we have roll-off dumpster rentals that will make the junk and debris removal hassle-free. Our team will take you through what is involved when renting the trash bin and help you understand the ongoing support you can expect during your rental period. Call (808) 445-9454 for more information.
Construction Dumpster Rental Services
At Pacific Equipment, we have different construction dumpsters for various contractors and construction projects. We offer these containers are an affordable rate and favorable rental terms.
We can meet your needs no matter how the number of projects. We operate nationally, meaning we are the ideal partner to work with if you have multiple projects across the country. Get in touch with us for your next commercial construction job and get construction waste containers with flexible rental periods and reliable support service.
Rent A Roll-Off Bin For Fast And Convenient Construction Waste Disposal
Having a wide range of construction dumpsters makes us the best partner for many of the standard commercial construction projects that generate heavy debris. We provide fast delivery and pickup of the trash containers to that your job site can stay clean, allowing the workers to be safe, focused, and productive. Whether the job entails tearing down or erecting a building, we have a roll-away box for your construction junk and debris.
How Our Construction Roll-Off Dumper Rentals Can Simplify Your Project
a).    Roofing Jobs 
Disposing of shingles and other roofing materials becomes easy with construction dumpsters on-site. We have an array of options to suit different sizes of building projects. Our team will help you find the right trash bin size to suit your project's disposal needs. 
Ease of Use: We shall place the bin as close to the construction property as possible allow the crew to toss in the waste efficiently.
Convenience: We are available on Monday through Friday; you can call to order your rental construction dumpster and schedule for delivery and pick up.
Fast Service: You can have your rental construction dumpster delivered to you as soon as possible, depending on availability, to avoid delays in your project.
b).    Concrete & Heavy Debris Removal 
Tearing up concrete is a tough job, but so is figuring out how to get rid of the debris. That is where construction roll-off dumpsters become useful, to help with the disposal of the concrete as well as other heavy waste materials. Our bulky debris bins can be used to haul away dirt, discarded concrete, and other non-hazardous debris. We shall help you pick the ideal size dumpster for your concrete and large junk cleanup. Your construction project will also benefit from the following: 
Maximum Capacity:  We have large roll-away containers that can hold up to 10 tons of waste.
Reliability: You can call for a quick pick up and swapping of the bin once you fill it up so that work does not stop due to a buildup of junk and debris.
Personal Support: We have a dedicated team that will answer any questions you might have regarding the loading of your construction bin and disposal of the waste.
c).    Yard Waste Removal & Landscaping Projects 
Our construction trash boxes will help simplify the yard waste removal for your construction project. The containers can be used to haul away grass clippings, fallen plants, shrubs, cut bushes, leaves, and small branches, among other kinds of debris. Get in touch with us today to know more about the best dumpster rentals for your next landscaping construction project. You will discover the following about our services: 
Variety of Sizes: We have an array of dumpers that come in different sizes to suit various projects, from small property cleanups to full-scale landscaping projects.
Easy Cleanup: The trash bins have doors that can be used to walk in large materials such as stumps, shrubs, and heavy debris that cannot be tossed into the container.
Simple Scheduling: We guarantee to deliver the roll-away bin on time so that you do not experience any delays in your work.
d).    Demolition Projects 
We have construction dumpsters that can handle your demolition debris, whether you are to knock down a couple of walls or the entire building. The roll-off bins can be used to haul way ripped floor panels, busted brick patios, smashed windows, or torn-down roofs and crumbling retaining walls. We guarantee that our service will be: 
Cost-Efficient: We offer our services at a flat rate so that you can afford to get rid of your construction waste with ease. We have no hidden fees; all our charges are upfront.
Full Coverage: Our team is available Monday through Friday, and can help schedule any additional support or services you might need to ensure you complete your construction job.
Extended Rentals: At times, the cleanup after the demolition might take longer than projected. We understand this and can make plans for you to keep the rental roll-away dumpster for an extended period based on an affordable, flat, daily rate.
What Construction Waste Goes Into The Dumpster?
Construction projects tend to generate various kinds of junk and waste materials that include:
• Roofing materials like shingles, flashing, underlayment, felt paper, tiles, and roofing gravel
• Heavy debris such as brick, concrete blocks, massive chunks of metal, and asphalt
• Landscaping waste that includes grass, dirt, tree stumps, and branches
• Construction materials like drywall, lumber, and siding
Get in touch with us today and learn more about the different waste materials that we accept when hiring out our rental roll-away trash containers.
Convenient Roll-Off Dumpster Rentals For Contractors
Having to deal with construction junk and debris can prove cumbersome and costly, more so when you have to haul away tons of waste materials. We, however, can help you manage the waste produced during your project. Our team of experts is but a call away Monday through Friday ready to answer your questions, take your order and schedule the delivery and pickup of your rental dumpster. Returning customers can have it easier as they can call, email, or text us regarding the services they need. We understand that your project has limited downtime; thus, we will work fast to ensure that we complete your request and deliver the roll-away container within the shortest time possible. You also can request for an extended period of use for the rental at an affordable, flat, daily rate. 
Make Pacific Equipment your trusted partner for your waste disposal needs in your residential or commercial construction project. We have an array of roll-off dumpsters to suit different jobs and budgets. Call us today at (808) 445-9454 to make your order.