We Have 15 Cubic Yard Dumpsters!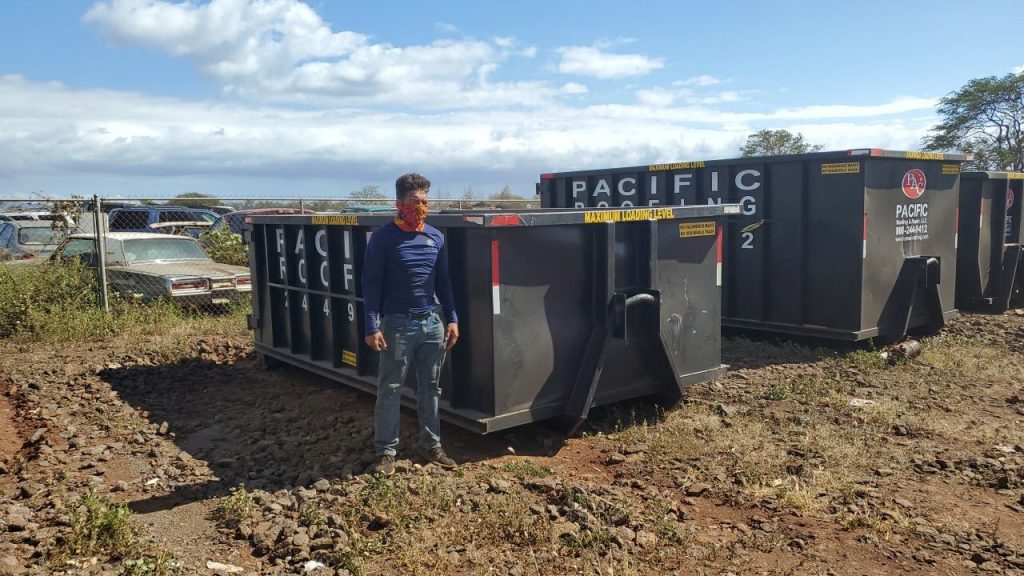 We Have 30 Cubic Yard Dumpsters!
Whether you need A-Z roll off dumpsters for your project, to lift and set practically anything, transport materials or equipment, or tow a vehicle that won't start, we have the equipment, personnel, and experience to help you. Pacific Equipment offers a number of services that range from boom truck crane services on Maui, to providing roll off dumpsters on Maui for residential and construction waste, to conventional or flatbed Maui tow truck services.  Our employees are all skilled professionals with years of experience in their respective fields, so they always do a great job and always leave our Maui customers satisfied.
Free Estimates
Free On-Site Consultations
SEND US A MESSAGE
(Yes - we check our messages & will reply)
Roll-Off Dumpster Service
Towing - Wrecker - Transport - Hauling
Boom Truck - Lifting - Rigging
We Price Challenge All Written Estimates
We Recommend To Get At Least 3 Written Estimates
Pacific Equipment Services On Maui
Our professional teams of drivers and technicians have a lot of experience towing vehicles that were damaged in an accident, through a natural disaster, or in any other way. They know how to carefully remove the vehicle from the accident site and not cause more damage, and they are always ready to rush out to your location and help you.
If you have been dreading the uncluttering of your home for a while now, it's time to give Pacific Equipment a call and arrange for all your junk to be hauled away. All you need to do is arrange the drop-off and pickup of a residential waste container and fill it up with things you no longer need – we'll take care of the rest!
Lifting heavy construction materials with a boom truck crane is not a problem for our experienced operators who do such jobs on a regular basis. Regardless of how bulky, oddly shaped, or fragile your to-be-lifted objects are, our professional employees can find a way to safely lift them and place them wherever you want them to be.
If you need something lifted and transported to another location, we can rent you a truck from our garage of regular and flatbed vehicles. Of course, we will also provide a boom truck crane on the other end so that your objects can be unloaded and placed at the new location. We have a number of different trucks and cranes at our disposal, so we can find a suitable vehicle for just about any kind of lifting and transportation job.
If your construction site is getting messy and difficult to navigate on foot, it is time to unclutter and remove the accumulated construction waste from it. We at Pacific Equipment are happy to provide a roll off dumpster that's large enough for your construction site and let you fill it up for as long as you need. If your crew needs more time to load the waste and junk into the container, just give us a call, and we will reschedule the pickup for a flat daily fee. We don't charge any hidden fees that only pop up once you're invested enough in our service to have no other option than to pay them.
We Provide Free Estimates
Have a question? 
Want to talk to someone? 
Ready for a quote?
Towing, Wrecker, and Hauling Services on Maui

Being stranded on the road in a vehicle that won't start is never a pleasant experience. We understand that, so we are always ready to find you and tow your vehicle to a location of your choice. Our staff members are always friendly, understanding, and calm, which can make a world of difference when you're stuck in a vehicle that won't move and counting on professional help.
If you ever find yourself stuck with an immobile vehicle anywhere on Maui, just give us a call, and we will be there to pick you up and tow your car to safety. We also have experience working with vehicles that have been damaged in an accident, so we'll be able to carefully move your car or truck away from the accident site and tow it onto a flatbed truck without causing any further damage.
We promise to not treat you like a generic customer that we don't really care about, and we will do our best to safely tow your vehicle to the chosen destination without causing any problems or complications for all parties involved. We also take flat transparent fees that are not hiding a dozen smaller fees that we conveniently "forget" to mention at first.
If you need to haul a large amount of cargo to virtually any location on Maui, we can easily help you with that. We have a number of flatbed trucks in different lengths, so we can always provide a truck that matches our clients' needs. If your cargo is regularly shaped and not too large, we can transport it in regular closed trucks. If you need to transport unusual objects that are frail and susceptible to weather damage, you can give us a call and find out what can be done to accommodate your unconventional cargo.
Boom Truck Cranes, Lifting, and Rigging Services on Maui
If you're doing a redesign of your Maui home or backyard, chances are you'll need some heavy objects lifted and moved around. Pacific Equipment is ready to provide you with a boom truck crane operated by a skilled professional who can lift air conditioning units, palettes and blocks of construction materials, statues, fountains, and even trees. Our crane operators all have lots of practical skills and theoretical knowledge that allows them to lift the object very carefully and successfully move them to different places within the range of the crane. Some of them even have the experience of lifting objects over houses, so they can help you move that heavy statue from the backyard to the front of your house in a matter of minutes.
We can also help you work on landscaping projects, providing mobile boom truck cranes that can lift trees and allow you to easily plant, move, or remove trees from parks, yards, and gardens. If you want to trim your trees, we can attach a man-basket to one of our cranes and provide you easy access to even the highest of the trees. All our vehicles and tools are modern and well-maintained, so you can be sure that it is safe to go up in our man-basket and trim the trees for as long as you need.
Every staff member at Pacific Equipment takes their job very seriously and is committed to delivering the best customer experience possible. This is why you can be sure that our trucks are always going to arrive at your specified location on time, and our crane operators are always going to lift and move your belongings with amazing precision and ease. We strive to exceed your expectations, so you can always trust Pacific Equipment to take care of all your lifting and rigging needs.
Roll Off Dumpster Services on Maui
Roll off dumpsters may be referred to in many ways, including names such as roll-off containers, bins, debris boxes, and temporary containers. However, the essence of this service is always the same: a special container is being delivered to your home or any other specified location, you fill it up with residential waste or construction debris, schedule a pickup, and, finally, the container is taken away to dispose of all your waste. As you can see, you can enjoy minimal involvement in the whole process and still get rid of all the clutter, junk, and waste in your home or from your construction site.
We offer multiple roll off dumpster sizes to accommodate the needs of single households, construction sites, and even demolition projects. Our small containers for 10 cubic yards are a great fit for small households willing to unclutter and get rid of old junk. Dumpsters for 15 and 20 cubic yards are ideal for small to medium construction sites or demolition projects. If you are cleaning out or remodeling a large home, you may want to go for our 30 cubic yards container that is enough for most demolition and major construction projects.
Pacific Equipment is always ready to deliver the roll off dumpster rental to your home and let you fill it up at your own pace. If you see that you're running out of time and won't be able to load the dumpster fully before the scheduled pickup time, just give us a call, and we will reschedule the pickup for a flat daily fee. You will not pay any additional hidden charges, and our service rates are fair, so you can be sure that you're getting the best value for your money with us.
If you have any questions regarding the services offered by Pacific Equipment and their respective service rates, don't hesitate to call us to find out more about what we have to offer.